The weather cooperated to a small degree today to allow for a rare jaunt into the "mountains" of Northern Michigan. The temperature was a balmy 35 degrees in town with an 8 mph wind from the south. The roads were mostly clear around town but near the tops of some of the climbs were spotted with piles of snow with no pavement exposed, meaning a precarious slip through on skinny tires. I did my normal climbing route except for one climb, which ended up being 5 climbs over 300 feet each. The legs are weak, but the lungs were better than I expected and my times on the climbs were not terrible considering my limited training. In Allendale, it would take all day to climb 400 feet, while the very first Col of the day on this ride was over 400 alone. The descents were a bit more dangerous and I took them with some degree of caution, tapping the brake occasionally and checking the shadows mud puddles for ice.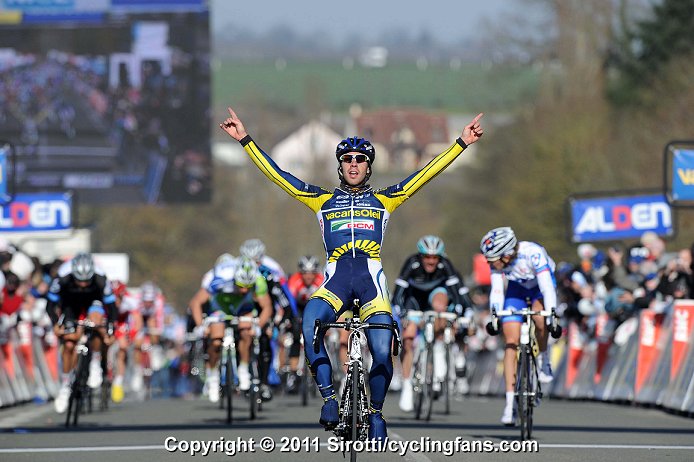 Thomas de Gendt wins on Stage One of Paris-Nice, donning the
Yellow Jersey for the second stage.
In the Paris-Nice, Greg Henderson of Team SKY won in a very close sprint in the second stage, edging out Robbie Hunter of RadioShack, Denis Galimzyanov of Katusha and a personal favorite of the Bohunk's Heinrich Haussler (Garmim-Cervelo). The terrifying Peter Sagan of Liquigas-Cannondale) wound up fourth. The Bohunk is an excellent predictor of things, though admittedly better when Cheer-Babes are involved. For Paris-Nice, look out for Sagan for the overall. Remember that in a few days' times…