Alberto Contador's ban is official; one year. However, as noted in an article this morning on VeloNews.com, the official date of when his ban begins is up in the air. Contador has not raced at all since the Tour de France, skipping a handful of small races and criterium events for uncited reasons. We learned later that it was probably because he already learned about the positive test and he wanted to avoid having those results taken away as well. If the ban begins retroactively from the end of July and the conclusion of the Tour, Contador could then start the Vuelta. Riding in his home country's race as a return to cycling would be an irresistible option for the Spaniard, and give him a chance to win a title for his new Saxo-Bank squad. No official date has been announced, though the matter should be cleared up very soon. Contador will hold a press conference today to reveal his reactions and any intent to appeal the ruling.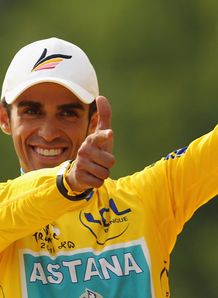 "Alberto, stop doing the little pistolero thing, you're a
convicted doper now…"
*Since it has been resolve, the Bohunk sadly announces the greatest recurring article title ever known. Goodbye, The Case of Alberto Contador and the Tainted Spanish Beef. You will be missed whilst giggling.