What a day, what a day. The past 24 hours have been very eventful around the globe and YOU need to be Updated about these events. Come along, on a fantastic voyage…
Those hackers that paralyzed MasterCard's website yesterday were joined by scores of other middle-aged men in their campaign in support of WikiLeaks. Shortly after I pressed "Publish" yesterday, credit giant Visa was attacked, crippling its website as well. Amazon.com, PayPal and the Swedish government's site have all been assaulted as well. The coordination and expertise of these attacks show that some of the best hackers in the biz are well at it in the defense of WikiLeaks and its now imprisoned founder (and James Bond-villain-looking personality) Julian Assange. Assange was arrested on sexual misconduct charges last week, though his lawyers presented copious proofs of his innocence. He will likely be forced to face espionage charges in the US, who are obviously involved in his arrest. The two women supposedly molested by Assange have refused to be involved in the case against him, and he is going to be held as long as authorities see it as beneficial. The attacks will continue as well.

Julian Assange: The perfect Bond villain. Even has a backstory ready!
You might recall that the world had some qualms about going to China for the Olympics a few years back. The country is one of the worst human rights violators on the planet, imprisoners more reporters than any other nation, and has been responsible for more 'disappearances' than any country since Stalin. Now, they are doing it in an even more pointed fashion. Hundreds of Chinese citizens associated with imprisoned writer and activist Liu Xiaobo have been taken into government custody, jailed, put under house arrest or followed. It is all a part of the effort by the Chinese government to make sure that no one goes to Oslo, Norway to accept Liu Xiabo's recently won Nobel Peace Prize. The writer is still in a Chinese prison, and his wife has been under house arrest since Xiaobo won the prize. She is not allowed to speak with anyone from the international community (she was not even allowed to decline an invitation) and makes no contact outside of her immediate family. Xiaobo's two brothers are under the same orders, and have been tailed by security forces day and night. As reported in the New York Times, this Friday will mark the first time since Nazi Germany forbade Carl von Ossietzky from accepting the award that no person will be at the ceremony to represent its recipient. Only one friend of Xiaobo's has a chance to attend the ceremony; Wan Yanhai, an activist, has been in the US from some months after fleeing Chinese police for his founding of an AIDS support group. Yes, AIDS support groups are illegal in China. If he goes to Oslo, Chinese officials will refuse his return to China.
In the ongoing look at cancer, the great Aretha Franklin is in the fight for her life. Family members announced that the great soul singer is battling pancreatic cancer, canceling all her public appearances and undergoing surgery Monday. Reports are that the surgery was successful, though that does not ensure health. Pancreatic cancer patients typically receive a 6% chance of surviving 5 years. There have been a number of prayer vigils in Detroit, where "The Queen of Soul" is still in hospital. With any luck, this is just a link in the chain-chain-chain of her incredible life. All the best, Aretha.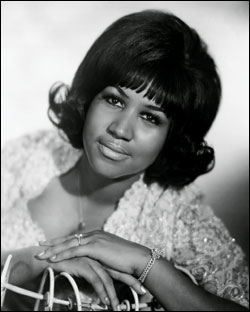 One classy lady, a legend, and, in her day, a Fox.
In mid-week amateur football news, Urban Meyer has stepped down as head coach of the University of Florida football outfit. Meyer, 46, says he will pursue his interests off the field and spend more time with his family. Meyer pulled this same stunt last season, citing health reasons for stepping down only to return for spring practices. Meyer has won two National Championships during his tenure at Florida, and also, it should be noted, a ton of games and SEC titles. Will he stay gone? This time around, the Bohunk gets the feeling he will call it quits. Former Florida assistant Charlie Strong is the top candidate for the job, but there are many others who would toss their name in the ring. Meanwhile, Nebraska board members have given head coach Bo Pelini permission to talk with University of Miami, Florida officials about the job there. Pelini's sideline conduct this season has been suspect; Miami's conduct in all areas over the last two decades has been rough, too. Could be a fit….And a train wreck.

"A man who carries a cat by the tail learns something he can learn in
no other way." Mark Twain
Finally, in the Cheap Gifts category, I highlight for your amusement the stunning work of Mark Twain's Autobiography of Mark Twain, which is a volume of stories and accounts dictated by Twain from his death bed. A team of editors worked on the text, giving the dictation some background and undoing some prior editing that had smoothed over some of Twain's more scalding criticisms. It is a book of stories, many stories, of the life and doings of one of the best American authors in our history. If you'd like to pick it up, go to Barnes and Noble.
Thanks for reading, join the Bohunk tomorrow for Foxy Friday and some week-in-review material. As you know, Friday is always a best effort of mine. Enjoy today and a happy tomorrow.