Disgraced and somewhat creepy Vaconsoleil rider Riccardo Ricco was rushed to the hospital early Sunday morning, confessing, or so it is claimed, to have botched a blood transfusion. Ricco is just returning from a two year ban after being caught with generous amounts of CERA during the Tour de France in 2008. Gazzetta dello Sport is reporting that Ricco was attempting to swap blood ahead of the Tour Mediterraneen which began today in France. The paper charges that poor preservation practices led to the blood becoming contaminated, and when bad blood is returned to the system, it causes a terrifyingly serious case of septicaemia, kidney blockage and a dangerously high temperature, all symptoms Ricco was suffering when admitted to the hospital. These high temperatures cause the membrane of cells to deteriorate and release toxins into the blood stream, which can potentially cause permanent kidney damage.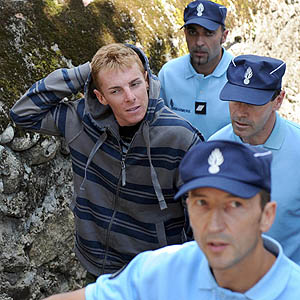 Ricco being escorted from the Tour de France in 2008 after a positive test.
Authorities searched Ricco's home but found no evidence of blood doping, which is a crime in Italy, severe enough to have at least a 3 month jail sentence, and Ricco could potentially face up to three years in prison if convicted. Some pills found in the home were sent for analysis. Ricco served a ban from racing after his positive in 2008, returning under the short lived guidance of Aldo Sassi, a legendary Italian cycling coach who has since passed from a long battle with cancer. The Bohunk recommends the cycling world forget about Ricco entirely; he is not worth our time or the ink we could use on decent human beings.