After my Lance Armstrong retirement photo montage, the Bohunk received several emails about omissions. It is not possible to include every moment of a twenty five year cycling career, but after an email from a Belgian fan, I had to attach an important appendix to that post.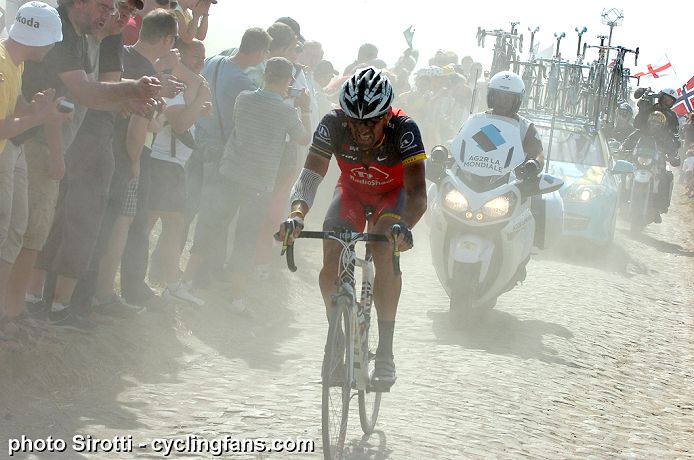 Armstrong goes it alone in the 2010 Tour.
In the 2010 Tour, Lance suffered a flat on the cobbles as the peloton, indeed, the race, was torn apart by Fabian Cancellara. While the Swiss Time Machine pounded away on the front, Lance was tacked on to the lead group of contenders until his front wheel went. He had to wait for a replacement, and, nursed along by teammate Yaroslav Popovych, trailed by over two minutes behind the favorites. Ahead on the road were the likes of Andy Schleck, Cadel Evans and Denis Menchov. Alberto Contador was the main benefactor. Before Lance's flat, the Spaniard was about a minute behind. After, he ended up with over a minute buffer.
Armstrong used Popo as long as he could before going it alone, chasing down a small group ahead of him on the road to reduce his losses. He spent a lot of energy in the chase and ceded an awful lot of time to the main threats to the overall. Lance has won Tours and impressed Yours Truly many, many times, but this ride is still one of the most impressive and important. Even at 38, with the odds and critics against him, Armstrong still had enough to go after the race alone and give it his all. Cheesy? Absolutely. But without heroics and great stories, cycling is just suffering painful.